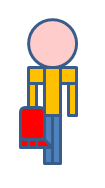 Class System is an upcoming feature in Elements . You can upgrade your characters in the Class System.
Whenever you use a class, you can learn new skills and upgrade your statistics.
How to Upgrade
Edit
You can upgrade your class when you earn Class Points. Class Points are point that you get when completing a mission, defeating enemies, etc.
Example:
When you defeat a boss in "Elements", you receive a huge amount of Class Points and a rare object.
Class Tiers
Edit
There are four Class Tiers:
Primus- is your basic class that can be unlocked through coins and when you have 1,000 Class Points
Secondus - is your secondary class that can be unlocked through coins and when you have 100,000 Class Points
Tertius - is your tertiary class that can be unlocked through completing one of the extremely hard missions and when you have 1,000,000 Class Points
Elementus - is your secret class which you master your element and can create god-like skills, to unlock this class tier is still unknown
Fire Elementals
Edit
Monk (Primus)
Champion (Secondus)
Berserker (Tertius)
Water Elementals
Edit
Beast Trainer (Primus)
Summoner (Secondus)
Grand Summoner (Tertius)
Nature Elementals
Edit
Scientist (Primus)
Item Master (Secondus)
Alchemist (Tertius)
Earth Elementals
Edit
Knight (Primus)
Warrior (Secondus)
Guardian (Tertius)
Lightning Elementals
Edit
Archer (Primus)
Hunter (Secondus)
Gunslinger (Tertius)
Air Elementals
Edit
Thief (Primus)
Ninja (Secondus)
Assassin (Tertius)
Ad blocker interference detected!
Wikia is a free-to-use site that makes money from advertising. We have a modified experience for viewers using ad blockers

Wikia is not accessible if you've made further modifications. Remove the custom ad blocker rule(s) and the page will load as expected.