Winds
Gender
Male
Age

10

Relative(s)

Aira (Sister)

Status

Active

Classes

Thief (Primus)

Ninja (Secondus)

Assassin (Tertius)
Winds is a playable character in the game "Elements". He's an air elemental.
Appearance
Edit
He wears a white shirt with blue pants. Winds has peach skin.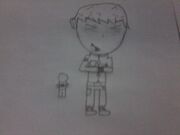 Abilities
Edit
He can produce air and make tornadoes.
Unknown
Together with Sparky, they're the youngest of all the male playable characters in "Elements", 10 years old.
Photos of Winds
Edit
Ad blocker interference detected!
Wikia is a free-to-use site that makes money from advertising. We have a modified experience for viewers using ad blockers

Wikia is not accessible if you've made further modifications. Remove the custom ad blocker rule(s) and the page will load as expected.